Who or what is CaveBear? The "where" part is easy: 37° 00' 02 North by 122° 00' 59 West - which just so happens to be in the City of Santa Cruz in the State of California.
CaveBear was formed by me, (Karl Auerbach) in Mid 1994.
CaveBear is an organization for research, consulting, product development, and other matters related to the internet. CaveBear explores new ways of making the Internet a more useful place for people. Projects include:
Tools for network diagnosis and repair.
The homeostatic (self-healing) internet.
Lifeline grade internet services.
Capability computer architectures and operating systems.
Internet governance.
Internet law and policy.
Protocol interoperability analysis and testing.
Internet humor.
The History of the Internet Project (sponsored by InterWorking Labs).
Shakespeare said - "what's past is prologue, what to come in yours and my discharge." If CaveBear is about anything, it is about new ideas and new things.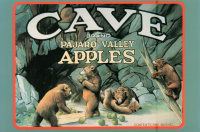 But why the word "CaveBear"? I previously had formed companies such as Empirical Tools and Technologies Corporation (also known as Empirical Tools and Toys and ETNT) and Epilogue Technology Corporation. After names like those I wanted something short, easy to remember, easy to spell, and unique.
Some years ago I found a postcard for "Cave Brand Pajaro Valley Apples" bearing a painting of some rather happy looking bears munching on apples and playing around the mouth of a cave. The name "CaveBear" came from that postcard.